Creative process of directing and writing for preschool animation - 31st May 13H CET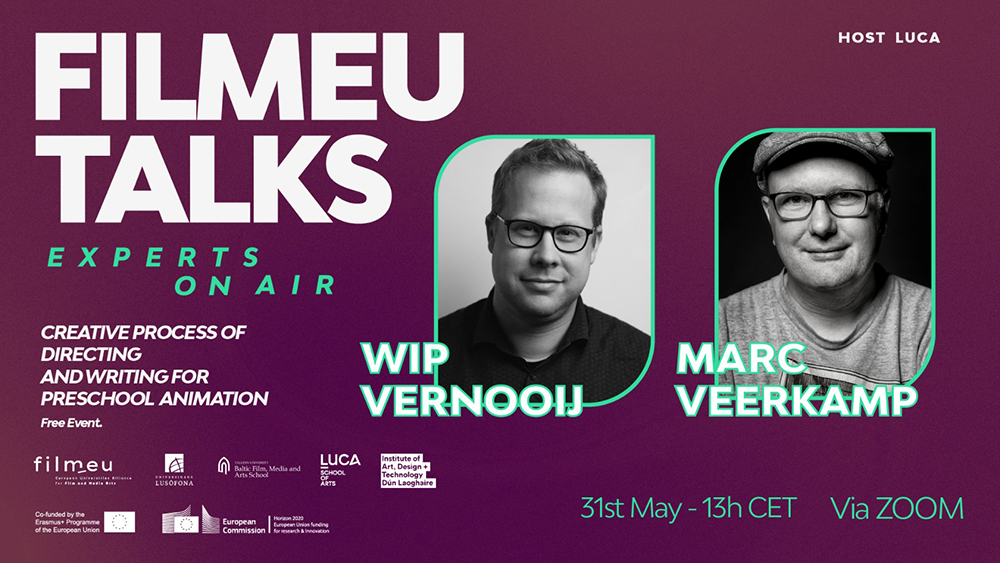 Wip & Marc will talk to us about their experience in the creative process of directing and writing for Preschool animation. Directing and writing the commercial preschool animation film 'Two Tiny Toddlers' during the pandemic also brought some new insights and challenges. They will provide us with some insights into this creative process.
Wip Vernooij (38) is a director, storyboard artist and animator, who most recently directed his second feature 'Two Tiny Toddlers', which will see a Dutch and Belgium release in 2022. It is the first 3D animated family film coming from the Netherlands.
Wip Vernooij has been named one of the Rising Stars of 2022 by the American magazine Animation Magazine!!! There he is, among people working at PIXAR and DreamWorks. Wip is someone who can make great strides on his own within narrow budgetary margins.
Mid 00's Wip started as an intern at the animation studio Lawson & Whatshisname, then one of only a very few studios in the Netherlands. Soon after he moved to London and studied traditional hand-drawn character animation after which he remained in the UK to work on a variety of projects as an animator and compositor for educational games, commercials and music videos. In 2013 Wip debuted as director on a 2D animated feature called 'Moshi Monsters the Movie'. He has since been involved in a number of TV-series and developments for young audiences as storyboard artist, series- and episodic director. Such as Wellie Wishers (Mattel), Fox & Hare (Submarine) and Dr. Panda (Dr. Panda)
Marc Veerkamp (Alkmaar, 1971) studied journalism and screenwriting. He started out as a journalist specializing in pedagogical subjects. During his career he shifted his focus to fiction. Nowadays Veerkamp mainly writes for film, television and theater. He was part of the writing team of SESAMSTRAAT for over 17 years. After that he also wrote for other Dutch youth series, such as HET ZANDKASTEEL and VRIJLAND.
He regularly works on animation projects. He also wrote, for the NTR-series GEORGE & PAUL, the Telemovie DE TAND DES TIJDS and the feature film 'Two Tiny Toddlers'.
As a theater writer Veerkamp works for both children (e.g. RAAD EENS HOEVEEL IK VAN JE HOU) and adults (e.g. MA, based on the book of the same name by Hugo Borst).
He also published a children's novel about KING ARTHUR and the picture book BEER IS NOOIT ALLEEN with illustrator Jeska Verstegen. Together with writer Bart Juttmann he wrote the yet-to-be-published book EN HET WOORD WERD BEELD, in which the writing process of 50 classic films and series is described.