Masterclass with Karen Pearlman and Richard James Allen
Lusófona University and FilmEU invite you to participate in a special masterclass with Karen Pearlman and Richard James Allen. Join us for an enlightening journey into the world of cinema with our upcoming masterclass sessions, live on Cinema Fernando Lopes and accessible online via Zoom. These sessions promise to expand your horizons and deepen your understanding of screen storytelling.
📅 Date: 19th September
🕒 Time: 15:00 (Portugal Time)
Text and Other Messages: Alternative Approaches to Screen Storytelling
Presented by Richard James Allen
Richard James Allen, a distinguished figure in the cinematic field, will unravel the intricacies of alternative approaches to screen storytelling. Discover new dimensions of storytelling and unlock fresh perspectives that will inspire your creative journey.
Impossible Images: Editing Strategies to Tell Stories Differently
Presented by Karen Pearlman
Karen Pearlman, a visionary in the art of editing, will lead you through the world of impossible images. Explore groundbreaking editing strategies that will enable you to tell stories in innovative ways, pushing the boundaries of cinematic art.
🎟️ Attendance is Free!
Don't miss this exceptional opportunity to delve into the art of screen storytelling with these esteemed experts. Whether you join us in person at Cinema Fernando Lopes or online via Zoom, these masterclasses are sure to leave you inspired and equipped with fresh insights.
BIOS
Karen Pearlman writes, directs and edits screen productions. She researches creative practice, cognition and feminist film histories. Karen's trilogy of short films about historical women editors (2016, 2018 & 2020) have won 33 highly competitive national and international awards from peak industry bodies and film festivals, including 3 for best editing, 4 for best directing and 7 for best documentary. Her 2020 film, 'I want to make a film about women', was longlisted for an Oscar and nominated for an Australian Academy Award. The special jury prize citation from the Sebastopol Documentary Film Festival reads: "a film of innovative brilliance, celebrating the inexhaustible, essential tenacity of suppressed artists everywhere". Karen is the author of the widely used textbook on editing, 'Cutting Rhythms' (Focal Press) now in its 2nd edition and with translations into Chinese, Korean, Arabic and Turkish. Her work has reached audiences of over one million people through collaboratively made research communication videos on YouTube called 'The Science of Editing'.
Dr Richard James Allen is a multi-award-winning Australian filmmaker, poet, and choreographer, and a performer in a range of media. An Artistic Director (with Karen Pearlman) of The Physical TV Company, his work has been screened, broadcast, published and performed widely across six continents. A five-time ATOM Award winning director and producer, Richard's films have been commissioned or purchased for multiple broadcasts by ABC and SBS-TV, picked up for broadcast in China, Europe and on cable TV in the USA. He has been described as a "master of choreography, as well as of dance, and cinema" (Nova, Italy). His work "points the way to the possibilities that abound when collaboration occurs across forms and new technologies are integrated into the totality of the vision," Hunter Cordaiy, RealTime. In addition to his creativity as a director, producer, writer, actor and dancer, Richard is an acclaimed Australian poet. His 13th book, Text Messages from the Universe was published by in 2022 by Flying Islands Press. The feature length dancefilm adaptation of the book has won multiple awards, and is now being distributed as a live performance/poetry/screening event. For more information see: physicaltv.com.au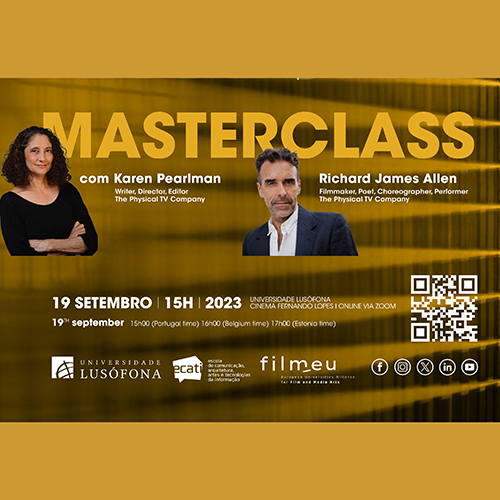 published 08 September 2023

modified 04 October 2023