Areas of Intervention (RIT's)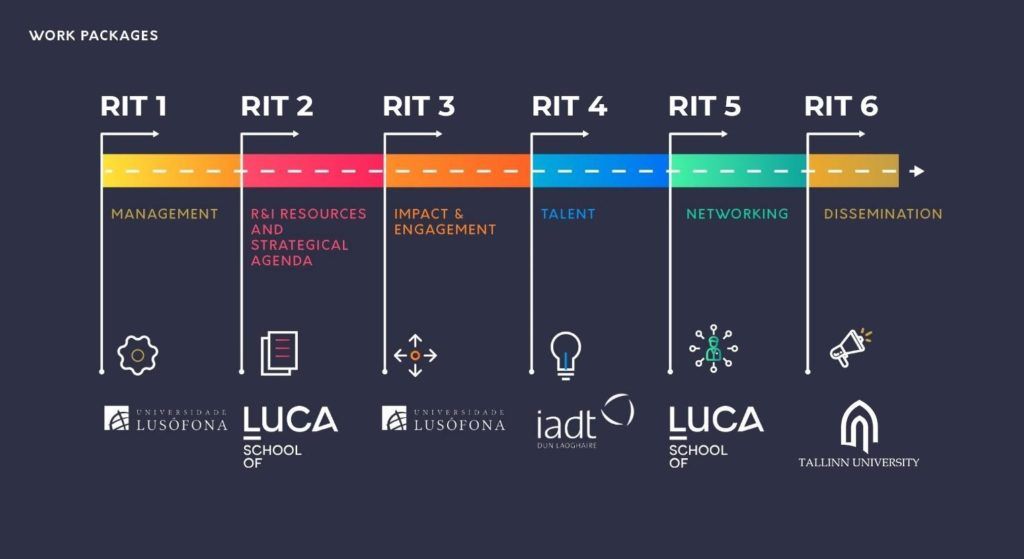 RIT 1 Management
This WP deals with the overall project management for the funding period, including different activities that establish teamwork, decision making, communications and collaboration, reporting, financial management and quality control.
RIT 2 R&I Resources and Strategical Agenda
This WP addresses the dual challenge of (1) strengthening the research profile of traditionally less research-intensive HEIs, and of (2) defining and developing the specific nature of that research – artistic research and practice-based research methods. By tackling these challenges in a concerted way, the FILMEU Alliance aims to act as a model for comparable institutions across Europe, mainly Institutes of Higher Art Education, enabling them to fully take up their role in the European Research Area.
RIT 3 Impact & Engagement
All projects are exploratory in nature and the objectives of the pilots are to consolidate teams inside the clusters and to support the definition of the research agenda of the Alliance by focusing on specific thematic areas. The four pilots are briefly outlined below. We considered as key deliverables for each project the research work plan in the form of a case study and final results that highlight the potential of the research to be carried out by the Alliance in the domain of artistic practice-based research.
These five pilots should be regarded as proof-of-concept instruments. They will support the implementation of joint teams and the definition of a common agenda for research, but also will help in identifying barriers to cooperation and support the production of a number of recommendations for follow up steps towards the implementation of a joint research agenda.
Click below to read more about the FilmEU_RIT Research projects.
RIT 4 Talent
The main objective of this WP is to promote a joint policy and action plan for the improvement of research competences in the Alliance and the increase in critical mass, along with a joint strategy for HR management, recruiting and rewarding.
We consider this WP to be central to the objectives of FILMEU_RIT following initial analyses and objectives. Rhizomatic sustainability education requires (re)imagining of scholarship.
RIT 5 Networking
This Work Package addresses the need for the overall valorisation and legitimization of the Alliance and involves exploring joint structures and sharing best practices across European Universities, facilitating collaboration in activities that could be common to all alliances and generally increasing the ability of the Alliance to intervene at a policy-making level. It includes two pilot actions: one that will explore cooperation with other European Universities and another targeting collaboration across the artistic sector in order to reinforce the artistic research agenda.
RIT 6 Dissemination
The main objective of the WP is the design and implementation of a sustainability and dissemination strategy that collates the results of the activity of the Alliance into the production of transferable assets including a final toolkit, reflecting our approach to artistic research and the positioning of the Alliance.